U. V. Cabinet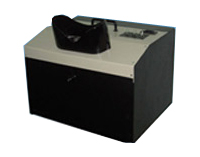 UV CABINET WORKING INSTRUCTION:
The UV cabinet is suitable for inspecting thin-layer chromatograms and objects in an undarkened room. The front of the box is closed with a magnetic lock, which can be pushed open. A glass filter in the viewing window protect the eyes against reflected short-wave UV light. Great care has been taken to ensure the correct distance between UV lamp, object and the observer's eye in the interest of good illumination and untroubled viewing.

TECHNICAL SPECIFICATION
Model
:
Mild Steel, Powder Coated
Size
:
15" X 12" X 10" (H)
View Piece
:
Alluminium Casting with Eye Protection
Light Source
:
3Nos
       A) Short Wave - 254 nm.
       B) Long Wave  - 365 nm.
       C) Visible Light
Tube Size
:
12" Long
Working
:
Individual Toggle switch provided for each light.
OUR PRODUCT RANGE

Constant temperature Water bath
Viscometric Bath
Heating mental
Cooling Cabinets
Dehumidifire
Bulk Density Apparatus
Antibiotic Zone Reader

Tablet Hardness Tester
Colony counter
Friability test Apparatus
D T Machine
Microscope
Analytical Single Pan Balance
Spectrophotometer
Brookfield Viscometer
Polarimeter

Melting point Apparatus
Karl Fisher Titration Apparatus
Conductivity Meter
Vis - Spectrophotometer
Potentiometric Titration Apparatus
Laboratory Centrifuge
Turbidity Meter
Air Sampler
Laminar Air Flow

Infra Red Moisture Balance
Electronic balance
Oil Less Vacuum pump
Binocular Microscope
Abbe Refractometer
Powder / Liquid sampler
Multi point Magnetic Stirrer with hotplate
Overhead Stirrer Cap. : 10,20,40,60 ltr
Sieve Shaker / Griffin Flask Shaker
Shaker water bath