Auto Clave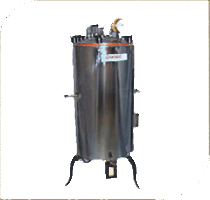 It is used for sterilization under working steam pressure upto 15psi. There are double walled units with inner and outer chamber made of heavy gauge stainless steel 304. Die pressed cover thick S.S. lid and Gasket molded silicone rubber. provided with Digital temperatures controller with indicator & Timer , Pressure gauge, steam release valve, safety value & paddle lifting arrangement.
This instrument supplied with basket of Aluminum / stainless steel. Pressure controls by spring valves .Cord &plugs to work on 220 / 230 V Ac supply.

TECHNICAL SPECIFICATION
Dimension
Inner
30x30h
30x50h
35x55h
45x75h
55x75h
55x90h
Outer
0  x  h
0  x  h
0  x  h
0  x  h
0  x  h
0  x  h
Heater
 
2kW
2.5kw
3kW
4kW
5kW
6kW
Capacity
 
 
 
 
 
 
 
Temperature
Pressure
                                                  15 Psi
Gauge
                                   Calibrated Pressure Gauge
Power  Supply
                                      AC 230 V, 50 / 60Hz
  Optional :
Digital temperature controller cum indicator with Timer.
Low water level indication with audio alarm.
Fully automatic Autoclave with printer interface through RS232 / Rs485.
For multiple networking.
OUR PRODUCT RANGE

Constant temperature Water bath
Viscometric Bath
Heating mental
Cooling Cabinets
Dehumidifire
Bulk Density Apparatus
Antibiotic Zone Reader

Tablet Hardness Tester
Colony counter
Friability test Apparatus
D T Machine
Microscope
Analytical Single Pan Balance
Spectrophotometer
Brookfield Viscometer
Polarimeter

Melting point Apparatus
Karl Fisher Titration Apparatus
Conductivity Meter
Vis - Spectrophotometer
Potentiometric Titration Apparatus
Laboratory Centrifuge
Turbidity Meter
Air Sampler
Laminar Air Flow

Infra Red Moisture Balance
Electronic balance
Oil Less Vacuum pump
Binocular Microscope
Abbe Refractometer
Powder / Liquid sampler
Multi point Magnetic Stirrer with hotplate
Overhead Stirrer Cap. : 10,20,40,60 ltr
Sieve Shaker / Griffin Flask Shaker
Shaker water bath